Partnership with Florian Van Acker, gold winner of the Rio paralympics games.
The final match was stressful. He won the first set but lost the second and the third. He then decided to take his chances by risking more as his life depended on it. It worked and he finally did win the game. The rage of the winner could be seen on his tensed face all through the game. That helped him to win. He had to be the boss and not let the other take over as he proudly says. Nowadays, only three paralympics disciplines allow mentaly handicaped athlete to participate (Athletism, swimming and table tennis).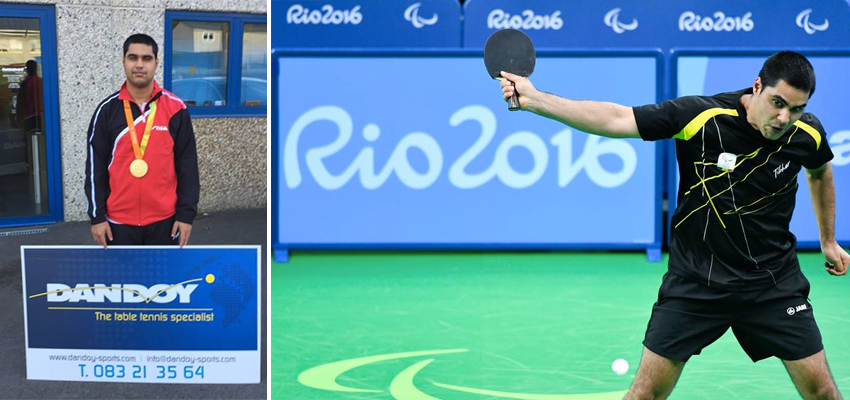 Thanks to a rigourous training and his coach advises, Nico Vergeylen, Florian was able to reach such a level to get the gold in Rio. He is very thankful to his adoptive parents for their support all through the years.
The King Philippe and the Queen Mathilde came especially to Rio for the Olympics games inauguration on August 4. They encouraged all the belgian athletes on this occasion.
Originally from Romania, this young fellow with autism was adopted by Eric and Dora Van Acker-Debedts in 2000. Since then he lives with them at Langemark-Poelkapelle in Belgium. Recently he was given the title of the citizen of honor by the mayor of his hometown. It was to congragulate him for what he has done in the table tennis world and for his future accomplishments. That day is to be remembered by him and his family that is always there for the Rio gold winner.
Florian, an endearing guy, is now become famous in the table tennis world. He is therefore invited by the media to attend events and he has got many fans. When he was invited on Novembre 5 as a guest of honor to the « Eperons d'or » stadium, he enjoyed very much giving the kick off of a belgian first league football match in Courtrai.
When a journalist asks him for an interview Florian is always there to reply and he never forgets to show his gold medal ! The employees of well-known belgian radio « Studio Brussel » love him so much that they gathered some funds to offer him a beautiful « pouf » in gold (a soft padded stool).
Last but not the least, Dandoy sports, the worldwide expert in the reselling of professional table tennis material, decided to start a partnership with this outstanding table tennis player !
Hopefully, this will contribute to Florian future challenges.